Discussion Starter
·
#1
·
I saw a couple of articles on PH;
GT 86 vs BRZ
and
Toyota GT86
, after some of the early articles like
Toyota FT-86
. It fell short of the concepts I'd been drawn to here:
Designed for the Enthusiast
but I was still attracted to it.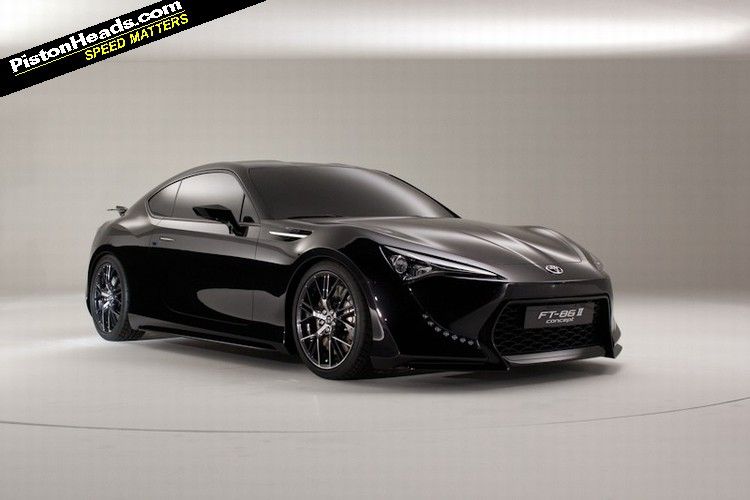 FT-86 Concept
--------------------
I'd recently had a TVR Griffith and a Nissan 350Z GT. The Griff was quick and fun and the Zed was a bit more practical and still had some grunt. I felt I'd done the
moar powr
thing and I needed a change - the BRZ seemed to fit the bill nicely.
I'd gone for the Subaru option because I perceived the brand had more 'cred'.
However, no dealer within 40 miles and I didn't like the look of it nor the equipment levels. The mouth is upside down and looks a bit weak, the side/DLR/fog light arrangement is messy and looks 'softer' alongside the Toyota. There was also talk of the Subaru being set up differently with the Toyota having more bias to oversteer, which I'd become used to with the Tiv and Zed. Not sure how true this is in real life, but I swallowed it at the time.
Toyota is was then.
When the demos started to trickle into the dealers, the only option locally was an automatic. Not my first choice, but the salesman did his best to convince me of its merits. He failed.
The seat was snug and the driving position pretty good after a few adjustments; seat adjusts (manually) up/down, forward/back as usual with no additional lumbar adjustment. The steering wheel felt great and adjustable up/down and in/out. The rearview mirror looked odd - it's rimless/borderless. I like it. Electrically operated (and heated) door mirrors are quite a good size allowing for good rear visibility driving as well as reversing and manoeuvering.
The whole thing felt quite taught/tight even pulling out of the car park. Not hard as such, but stiff - in a good way. Pulling away from the first set of lights a few things became apparent. It wasn't terribly quick, and the 'fake' induction 'growl' sounded ridiculous. Like there was a tinny little speaker in the footwell. Not the best of starts. It was a slushbox (torque convertor stylee auto) so perhaps the 'launch' was understandable - kickdown and in-gear acceleration while not blistering was acceptable.
Fortunately, it was quite wet for my test drive. I warned the salesman I'd hit the second or third roundabout maybe harder than he may be used to, but he was keen to win the order so was okay with me trying it out. Cornered nicely and pretty flat and a little wiggle even with the safety nets full on and me not trying too hard. I smiled. Again. By now, I'd forgotten about how twee the piped induction growl was and had grown to like it. :hehe:
Over the next few roundabouts I first tried sport mode, then all off. It was very wet, very quiet and hardly a soul to be seen. It was a hoot. I was pretty much giggling like a small child. There was no drama or screaming of tyres, just balletic poise as I danced in slow motion. The salesman knew he had me, and I knew I couldn't not buy one.
Played it cool when we got back - I waited three or maybe four minutes before I asked how much money he'd like me to give him. So much for my negotiating skills.
Ordered six speed manual, Alcantara leather (heated seats), Touch & Go audio/satnav all dressed in Ginger paint.
That was 4 July. Picked it up on 1 September. A few niggles and complaints regarding the dealership but that can wait.
The handbook said to run it in over the first 1,000 miles, not exceeding 4,000 RPM.
Clearly, I knew better than the giant Japanese multinational so once it had 100 miles on the clock (maybe two hours?) I started upping the limit a few hundred revs at a time with the ocassional unstressed blip towards the top of the dial.
I'd booked the week off to play with my new toy and so got in and drove.
The first day found me in the Brecon Beacons; some great roads, especially for this car and importantly on this occasion, pretty much flat so less stress on a running-in engine.
In the Principality
The following day I went on one of my favourite runs in the Cotswolds and Fosse Way. To be honest, the TVR and Nissan had bags more grunt so the long straights and steep inclines were barely noticed - the 86 struggled a little. It's better suited to the bends and twisties of Britain's B roads than arrow straight A roads; the very roads on which I struggled with the TVR because it was unpredictable (in my hands) and would bite me in the arse every now and again. The 86 feels lighter and more nimble, despite being 150kgs heavier.
The next day I went down to Dartmoor and Exmoor and then on to Woolacombe, North Devon. Great roads for the Toyota, not dissimilar to those in the Brecons, though the scenery is rather different and rather fewer sheep. More cows though.
Seaside
On my way back from Devon I went through 1,000 miles.
Job jobbed
Gave it a quick chamois down and took a polaroid up on the Common after a hard couple of days, running in.
Shagged out
Six weeks in and I'm still loving it. What I thought of in the test drive as 'modest' acceleration has become the norm - for many it won't be enough. For what the car's about it's plenty.
You could say it's a bit crap at being an estate car. Not too clever as a people carrier either.
More power is a trivial issue, if it were the intention the combined might of Toyota and Subaru would've produced a 250+/300+/500+ BHP monster, but they didn't - because that is not what was called for. They decided a small, (comparatively) light-weight 2+2 with modest power, limited grip and excellent handling was what they wanted, and that is what we got.
Cheap, reliable motoring with a bit of fun thrown in.
If I want full-on, drag racing, expensive to run/insure slaaag I'd look at a GTR or M-car - this is not it. Nor is it meant to be.
Surprisingly for a Jap car, it attracts a great deal of attention from many different people.
I was used to small boys (yes, I know
) pointing and staring at the Griff - most blokes looked away, trying not to appear interested - envy? I dunno. Women in general fairly non-plussed.
The 350Z is a good looking, muscular car which was well regarded by most, but a bit too common to be of much interest. A few women in the office said they liked it, which I thought was unusual.
It may be the colour that draws the attention with my 86, but everywhere I go people stop, stare, point and comment. They walk up to me in the filling station to ask what it's like. Astonishing!
It's a mass produced Japanese coupe, but they've got something right.
Toyota GT86 2.0M
11/10